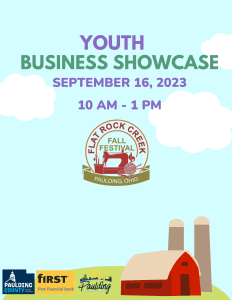 Paulding County's highly anticipated annual Flat Rock Creek Fall Festival is almost here!
This year features an exciting addition to the schedule of events, with the first-ever Youth Business Showcase taking place Saturday, September 16th between 10 a.m. and 1 p.m. at the OSU Extension Building located at 503 Fairground Drive in Paulding.
Paulding County Economic Development (PCED) has partnered with the Paulding Area Chamber of Commerce, First Financial Bank and the Ohio Small Business Development Center to create an opportunity for kids 18 and under to showcase a wide range of talents and business ventures to the public.
In addition to receiving feedback from local business leaders, two awards are up for grabs for participants. Attendees will cast a vote for their favorite young entrepreneur for a People's Choice Award sponsored by the Paulding Area Chamber of Commerce. Three Winners will receive a prize bag featuring items and gift cards donated from local businesses. These awards will be presented towards the end of the showcase.
A Judge's Choice Award will be presented to one winner who will receive a free checking account from First Financial Bank, admission to Northwest State's summer entrepreneur camp, and the opportunity to participate in PCED's marketing small business assistance program that can help create a logo and marketing plan for their business.
Residents and visitors are encouraged to support the youth entrepreneurs during the Youth Business Showcase hours. Attendees will have the chance to shop and explore a range of products and services, while also participating in the voting process to determine their favorite entrepreneurs.